Over 25 years ago, we had set a bold aspiration for health in India.
India was a signatory to the Alma-Ata Declaration 1978, to attain the global objective of "Health for All by year 2000".
Inspite of all the improvements we have made so far, we are still well behind many of the developing / developed countries.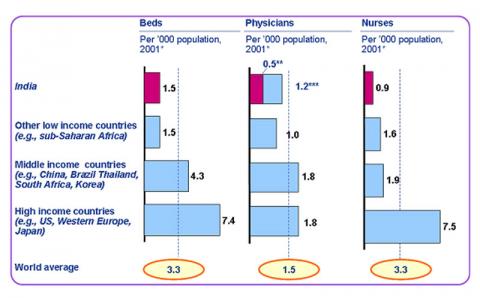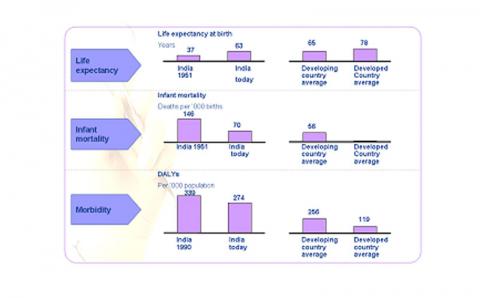 Macro economic factors … aiding Healthcare growth
CII-McKinsey study on healthcare says that Medical Tourism alone can contribute $ 2 Bn by 2012 against an estimated $ 0.34 Bn currently
Healthcare industry is growing at 30% CAGR. Ayurveda, as an integral part, will drive this growth. India needs to fine tune this hospitality into an art
Estimated 150,000 medical tourists visited India last year recording a 20% growth. Of this 60% account for Ayurvedic treatment
Ayurveda has been a big revenue earner. Ayurveda treatment earned  $1.2 Bn in 2006
Global herbal market is a $ 110 Billion industry and Ayurveda represents almost 50% of this segment. India is a big time player in this area and it is now an opportunity to consolidate itself even further.
NHS has begun sending patients for treatment to Europe to cope with its backlog of cases. At present the NHS restricts referrals to hospitals within 3 hours flying time, but Indian hospitals say this barrier will eventually be lifted.
The move towards Ayurveda is inevitable. The West has problems of rising health care costs and an ageing population coupled with the deficits that the governments are facing due to large healthcare spends Deficit Reduction Act, as an example
International standard treatment available in India with English as a common language
Now let's delve into Ayurveda and its merits :
Ayurveda is a collection of principles of healthy living that evolved from the time of appearance of man on earth. This is the one healing system that has been practiced in daily living in India for more than 5000 years. Ayurveda first recorded in the Vedas, the world's oldest collection of knowledge is still the most favored health care practices of millions of Indians and has influenced the ancient Chinese system of medicine, Unani and Humoral medicine practiced by Hippocrates in Greece. Though Ayurveda is referred to as the "MOTHER OF ALL HEALING", it took a back seat probably during the British rule, when in, the western medical education became dominant. This led Ayurveda to become the second option used primarily by traditional spiritual practitioners and the poor. After 1947, Ayurveda gained ground and several schools were established. Although Ayurveda remains a secondary system of health care in India, the trend towards complementary care is emerging and western and Ayurvedic physicians often work side by side. Today Ayurveda colleges are opening throughout Europe, USA and Australia and is being regarded as "NEW AGE MEDICINE". The potential for tourism through Ayurveda should now be looked into. Now that Ayurveda has been given a Heritage status and is being talked about under Health tourism, its time we start to attract and capture tourists from world over to promote tourism in India especially in Karnataka.
As can be seen from above, Ayurveda is
Science of Life
paveda of Rugveda and Atharvanaveda
Helps attain liberation through healthy living 
Aim of Ayurveda
The ultimate aim of Ayurveda is to "Attain Moksha (Liberation) through Healthy Living"
Dharmartha Kamamokshanam
  Arogyam Moolamuthamam
Definition of Health According to Ayurveda
Samadosha Samagnishcha
Samadhatu malakriyaha
Prasannathmendriya Manaha
Swastha Ithyabhidheeyathe
Equilibrium of Tridoshas (Vata, Pitta, Kapha)
Proper functioning of Agni (13 types)
Balanced state of Dhatus (7 Body Tissues)
Proper evacuation of Trimalas (Urine, Feaces & Sweat)
Balanced state of Mind – Indriyas (10) and Atma
Ayurveda is a preventive as also a Curative Measure. It is a complete philosophy of life as it provides guidance on lifestyles and designed specifically to achieve and maintain internal and external stability
Ayurveda is becoming increasingly popular because it addresses the elementary concepts of re-establishing contact with nature and gives us the guidelines to lead a healthy balanced life.
Acceptance of Ayurveda by practitioners of main stream medicine
Doctors across the globe are advising their patients to explore the world of holistic health.
Western doctors and patients are getting increasingly frustrated with tremendous side-effects and spiraling costs of allopathic medicine.
Ayurveda is growing most rapidly as one of the important systems of mind-body medicine in the world.
Most foreign patients who come to the sub continent for allopathic healthcare are from other developing countries. But tourists who come for Ayurveda treatment are from developed countries as USA, UK, Germany, Japan etc. The new sleek ayurvedic medical centers of excellence offer developed world treatment at developing world prices.
The emergence of Ayurvedic centers
Service sector growth is being driven by Ayurveda. Ayurvedic massages & Ayurvedic rejuvenation packages are very lucrative and provide a terrific value added service.
Large pool of well trained doctors coupled with low treatment prices will help Ayurveda emulate the Indian software sector's success.
Customized packages are now being designed to attract wealthy foreign patients, with airport-to-hospital bed car service, in-room internet access and private chefs.
Emerging trend is to combine surgery in India with an Ayurveda rejuvenation holiday.
The move towards Ayurveda is inevitable. The west has problems of rising health care costs and an ageing population.
Kerala …. A success story
Kerala and Ayurveda are now synonymous with each other. Ayurvedic treatment has been a tradition in vogue for centuries
Kerala, with a population of over three crores, boasts of 727 dispensaries and 115 Ayurveda hospitals having 2644 beds
In 2006, 52,000 in-patients were treated along with and 3.8 Million out-patient treatments.
In 2006 - 8 Million tourists visited Kerala, a large percentage for ayurvedic treatment
Health Tourism has been a substantial contributor to the state exchequer
Growth in this area has provided employment opportunity to over a million people – in turn pushing secondary & tertiary growth
Karnataka …. Opportunity beckons
Bestowed with high altitude regions, Karnataka provides climatic conditions that are stimulating and invigorating
North Karnataka has been a major source of all herbs used in Ayurveda
Karnataka has 45 Ayurveda Medical colleges, thereby generating a pool of highly talented doctors
Annually, 300,000 tourists undergo ayurvedic treatment. There is always a  room for participation for all states
Being culturally & traditionally rich, it is possible for the patients to combine Ayurveda treatment with visits to places of religious / tourist interest.
The Takers …
Foreign tourist, more so from the developed world are looking towards ayurveda as a form of holistic treatment
Gulf neighbors, due to close geographical proximity
Domestic tourists keen on wellness
IT Professionals for stress busting
More than 70% of the American population prefers a natural approach to health. They spend around $ 25bn on non-traditional medical therapies and products
Ayurveda's popularity is rising since it addresses elementary concept of re-establishing contact with nature
Government ..…. Strategic Imperatives
Health tourism is now being actively promoted by private entrepreneurs. Government needs to step in and support Private Public equity participation
Coastal Regulatory Zone regulations to be worked on by the State / Central Government
Govt should support showcasing of Ayurvedic benefits in International conferences
Medical Tourism council to spell out a policy to prevent proliferation
Accreditation of service providers to ensure consistency of deliverables
Offer tax and subsidies to Ayurvedic / related services
Indian government needs to strengthen basic infrastructure like airports, roads, power, transportation etc to support the growth sectors
Visa on arrival to incentivise foreign tourists thereby easing the visiting process
To conclude, Ayurveda has been one of the greatest treasures that we have inherited over generations. Let's conserve this sacred science and share with the rest of the world &help mankind benefit from its goodness.