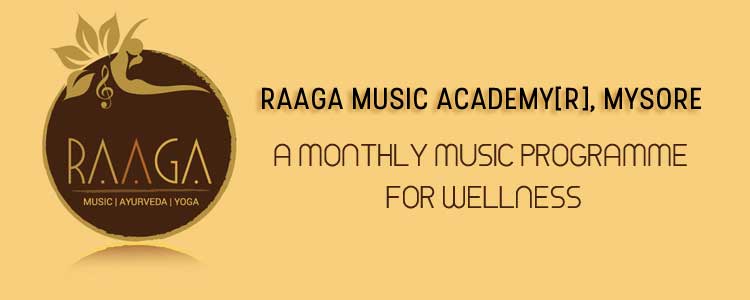 RAAGA is a unique platform for monthly music programme, held on the third Saturday of every month at Prajna Kuteera. Bringing all the three Vedic sciences viz., Music, Ayurveda and Yoga into one focus, under one roof is the humble concept.
Ayurveda originates from Rigveda and Atharvanaveda, whereas Samaveda is the source of classical music. Music has frequently been used as a therapeutic agent from ancient times. As we are aware, Music is the healing force of the universe, literature of the heart and medicine of the mind. Music helps in healing most of the psychological and psychosomatic disorders and aids in inner harmony.
RAAGA has been committed to providing the musically inclined audience of Mysore, with an opportunity to listen to various forms of traditional/classical Carnatic/Hindustani  music.
Dr. Poornima K.Murthy, Director of Prajna Kuteera Ayurveda Centre ® and Abhijna International Academy of Ayurveda & Yoga ®, Mysore had a vision of providing a unique platform for Ayurveda, Yoga & Music. Her long-held dream became a reality in March 2013, with the support of Guru Smt. Koviladi R Kala, a renowned vocalist and music teacher, Nadashree Sangeetha Vidyalaya, Mysore and a team of other eminent people in the field of music.
Since then, RAAGA has been providing a platform for music performances on the 3rd Saturday of every month and has made impressive strides in the field. A three-day Carnatic Music Workshop `Lalgudi Darshan', in memory of Nadayogi Sri Lalgudi G Jayaraman was also organised in Sep, 2013, with great success.
Hitherto, all the programmes were being conducted under the aegis of Prajna Kuteera Ayurveda Centre, Abhijna International Academy of Ayurveda & Yoga and Nadashree SangeethaVidyalaya. All the programmes have been extremely well received and it is the overwhelming response of the music lovers that drives us.
With a view to realizing a bigger dream,as envisaged in `Our Mission', "RAAGA MUSIC ACADEMY" has been floated as a Trust under the INDIAN TRUST ACT, 1882.
We do accept voluntary contributions/donations made to further the objectives of the Trust and all contributions so made are exempt from  Income Tax under Sec.80 G of the Income Tax Act, 1961.
RAAGA MUSIC ACADEMY hereby requests the learned Gurus of all music schools to send the profiles of their talented students. RAAGA will be more than happy to provide them their platform.
Regd. Office: # 100/2, Vishwamanava Double Road, Kergalli, Jayapura Hobli, Mysore - 570 026
Email: dr.poornimakmurthy@gmail.com
Ph : +91 9880917562